Event-Horizon is a little personal web-server that belongs to James Nash and is being used for the following purposes:
To host various websites (such as this one)
To enable remote logins / file transfers via SSH, so James can check up on Event-Horizon while he's out.
And just to generally experiment with server admin! :)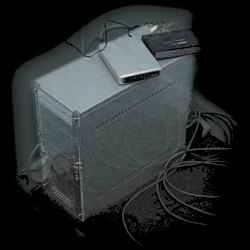 James built Event-Horizon himself. This was done to avoid paying for stuff he didn't need that would otherwise get bundled with an average PC: Fancy graphics and sound cards, Dial-up modem and, of course, lousy Microsoft software. ;-)
Anyway, moving swiftly on - here's the spec for the geeks out there who care:
Athlon XP 1600 CPU (runs at 1.4GHz)
512MB 333MHz DDR RAM
2 x 60GB 7200rpm harddrives
2 x 10/100Mbit Ethernet cards
OS: Debian Linux ( kernel version: 4.15.0-197-generic )
Uptime sez: 01:59:59 up 27 days, 2:57, 0 users, load average: 0.00, 0.00, 0.00
(check event-horizon's uptime history - courtesy of Netcraft)
© 2002 James Nash. Event-Horizon is hosted by Cyberfinity.